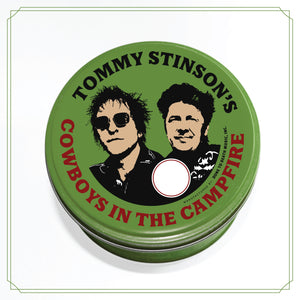 Tommy Stinson's Cowboys In The Campfire - Wronger
Regular price $21.99 Sale
In plain words, Tommy Stinson is a great American musician. You can needle-drop at any juncture of the Minneapolis native's four-decade-plus career and find a moment of great significance. Stinson was a founding and lifetime member of the Replacements. He was a key second-generation ingredient in Guns N' Roses and served a seven-year tenure with Soul Asylum. He also led two essential bands of his own -- the aptly named Bash & Pop and Perfect.
Stinson's latest venture is called Cowboys in the Campfire -- a duo with good pal Chip Roberts -- and its debut album, WRONGER, is perhaps the most American album the singer, songwriter, multi-instrumentalist and producer has ever made.
WRONGER's 10 tracks ride a giddy trail of twang and grit, melody and (mostly lyrical) mayhem. The very first song, "Here We Go Again," sets the tone; Stinson on ukulele, singing about the ardors of creativity, while horns swell and there's not a hint of percussion other than the perceptible tapping of feet by the musicians in the room. It's stark and immediate, like sitting right in the middle of the maelstrom.